Ion Exchange Column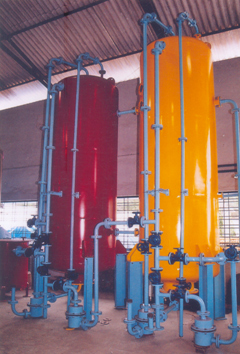 Ion Exchange Column
Product Description
Ion Exchange Column:
The pre-concentrated glucose syrup is passed through the common regeneration ion exchange column to refine glucose syrup by deashing. It is used to remove residual flavour and color bodies that were either missed during carbon refining or were not abosorbed by the activated carbon present in the syrup. It also removes ash (solubel salts) and all the organic and inorganic impurities from glucose syrup.
It has two column one is anion exchange & another is cation exchange made of ISMS 226 with food grade rubber lined or AISI 304 or AISI 316. Columns are filled with suitable resins and the syrup is passed through it, resins has to be regenrated from time to time.
Advantages
Impurities will be removed Like:
Organic and inorganic acids
Heavy metals
Ash contents
Alkaline earth metals
Improved product
Improved stability
Contact Us
Plot No. A28/1/10, I.D.A, Nacharam,, Hyderabad, Telangana, 500076, India
Phone :+918035063236