Flash Dryer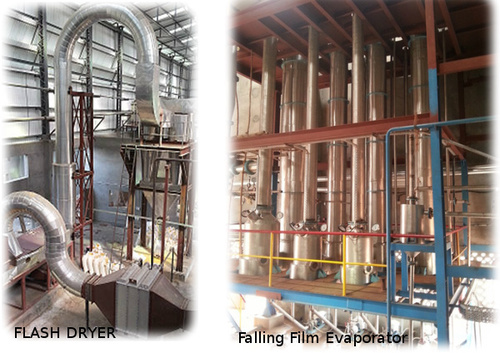 Flash Dryer
Product Description
Flash Dryer

We offer Flash dryers in three type negative draft (negative pressure drying), positive draft (positive pressure conveying) and balance draft (positive-negative conveying).
Flash type or pneumatic dryer are used for removing surface or unbounded moisture from a feed. Technology behind it is relatively low residence time and moisture is flashed off, a consequential amount of evaporative cooling takes place allowing higher inlet temperature to be used without excessively heating the product.
We offer a complete flash dryer package including hot air generation system via steam or gas, feeding system, cyclones or air bags, wet or dry scrubber for capturing fines, product collection section, control & instrumentation. We also provide optional accessories like feed preconditioning depending upon application, product conveying cooling.
Main features:
Strong construction
Available in AISI 304 & AISI 316
Low residence time
Various feeding arrangement available
Range of feed disintegrator
Fully or partly automation
Hot air generation system via steam or gas
Applications
Starch
Gluten
Starches from Potato, Corn, Wheat, Cassava, etc.
Wheat and Corn Gluten
High protein fodder DDGS
Minerals
Cellulose
Pigments and dyestuffs
Fine chemicals
Zirconium Hydroxide
Sodium Ferro-Cyanide and Sulphate
Metal powders
Precipitated Calcium Carbonate
Silicate
Bethonite
Alfa Ash
Carbon
Gravy powder
Falling Film Evaporator
A falling film evaporator is used in industries to concentrate liquid especially heat sensitive materials In this type of evaporators the liquid is feed from the top of the evaporator design of the product distribution system in the evaporator is such that the product wetting of the tubes should be full and evenly.
The product is distributed into the heating tubes in a form of thin layer and it flows downwards at boiling temperature and start evaporating.
The product and the vapors goes into the separator where the both is separated and vapors is forwarded to next effect. This type of evaporators can be operated with very low temperature differences between the heating media and the liquid. The effect of this type evaporator depends of the capacity and type of product. While designing number of effect is calculated considering steam economy and cost.
Applications
Glucose/Dextrose/Maltose/Fructose
Milk
Honey
Fruit Juices
Tomato Juice
Malt Extract
Sugar Cane Juice
Invert Sugar
Coffee Extract
Tea Extract
Herbal Extract
Soy milk
Tea extract
Distillery Waste
Tea Extract
Water Effluent etc.
Chemical & Pharmaceuticals
Salt
Enzymes
Gelatine/Glue
Sodium Sulphate
Dye
Effluent
Caustic Soda
Phosphoric Acid etc.
Contact Us
Plot No. A28/1/10, I.D.A, Nacharam,, Hyderabad, Telangana, 500076, India
Phone :+918035063236